Background

James M Smyth Life & Pensions started on 7th November 1983 and within a year had moved to premises in Ballygowan, where on 1st February 1986 the company bought its first office. The company traded as James M Smyth Life & Pensions until 2005 when the name was changed to JMS Financial Planning to more accurately reflect their role as Personal Financial Planners rather than just sellers of life insurance and pensions.
They are one of the few Independent Financial Advisers to have remained independent since the Financial Services Act took effect on 29th April 1988 continuing to grow alongside the various Regulators since that time. There have been many changes throughout that time, including the creation of tied agents, then multi-tied agents and the regulation of not only investment business but of mortgage and insurance business.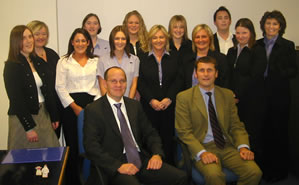 Throughout all these changes the team at JMS Financial Planning have continued to be able to advise on and arrange products from the full range of product providers to give truly independent financial planning advice. In fact, unlike many of their competitors, they are qualified to give advice on the full range of pension products, including pension transfers. They are committed to remaining a company that you can rely on.
The partners in JMS Financial Planning, Ian Pyper and James Smyth, also run a business in association with the Halifax Bank of Scotland (HBOS plc). Since 1985 they have run the Halifax Agency in Ballygowan and in 2005 opened Halifax agencies at their offices in Ballyclare and Dundonald. They are proud to have such a long-standing relationship with one of the UK's leading financial institutions and feel that this connection complements their core IFA business.